What we at Christ Disciples Church Believe
Here at Christ Disciples Church we are family oriented. We are a multi-cultural and bible based church.
We offer: Bible based teaching by educated and Spirit –filled teacher.
We believe: That Jesus Christ was born of the virgin Mary, that He died on a cross, that He rose on the third day, that He is seated at the right hand of God and He IS coming back soon for His church.
We believe: That the Bible is the inspired, infallible, true, and authoritative word of God. That the Bible provides all the necessary guidelines for Salvation, and the means for living a victorious life.
We believe: That salvation is a gift paid for through the blood of Jesus Christ scarified on the cross of Calvary. (Gifts are free)
We believe: That each and every one of us has the opportunity to have and should have a personal relationship with God.
We believe: That if we repent (asks God for forgiveness, and turn from our old sinful ways) He will forgive us of our sins.
We Believe: That God hear and answers prayers. Therefore we offer prayer for those in need as well as the sick. James 5:14-15
We Believe: In true worship from the heart and soul. Our worship services offer a blend of contemporary and traditional worship music.
We Believe In the five fold Ministry gifts.
We Believe: That we are saved by Grace through faith and not of our self, it is a gift of God.
We Believe: That young people are one of the most important assets that we have. We teach bible-based principles as they pertain to practical life applications. We offer designated activities for our youth usually on a Saturday night. You are always welcome to join us.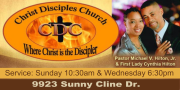 Christ Disciples Church
Baton Rouge, La 70814
Phone:
225 250-5479
Email:
yahoo.com@CDCforChist
About Our Church
Service times are:
Sundays at 10:30am &
Wednesdays at 6:30pm